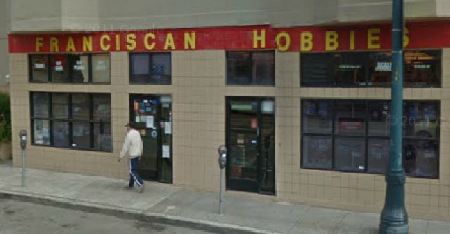 Franciscan Hobbies started with a gleam in the eye of Bill Gunther in 1946. At the suggestion of this father after his tour in the Infantry during World War II, Bill took his savings and scouted the San Francisco area for a place to open his hobby shop. It is hard to believe that there were over 25 such shops in the San Francisco area at that time and that stores were at a premium. But finally, he found what he felt was a good location and opened his first store at 1805 Ocean Ave in the Ingleside district near two colleges, a junior high school and an affluent residential area. The Iron Monsters of San Francisco Municipal Railway's 'K' line ran past his front door. Originally opening as a model airplane store, model trains were added the model airplane business began to decline. This decline was spurred when an area near San Francisco Zoo used to fly model airplanes, called the Goat Patch, was sold for redevelopment.


Having been a victim of misleading advertising, which promised more than it delivered, Bill decided to focus on two words in his ads. TRY US!

This left space around these words in magazines filled with other crowded ads so he was sure that his ad would be seen. His philosophy was for the ad to get customers to come to the store and friendly service and a comfortable atmosphere would keep them coming back. It worked then and continues to work today. Within a few years, he had to expand into the next store and later even move into larger quarters at 1801 Ocean. The store prospered here for ten years until redevelopment forced Bill to move Franciscan Hobbies to 1935 Ocean where it was to become a fixture for the next 32 years.

In the early 1980s, Franciscan Hobbies was being re-discovered by out of town rail fans who were flocking to San Francisco to ride the last of the PCC cars as they were going to be replaced by the Boeing Light Rail Vehicles. Business again grew by leaps and bounds. Finally, larger quarters were needed and became available across the street. In 1988, Franciscan Hobbies moved to where they are today and with that move all departments were able to expand.

With model airplanes, trains and cars in all scales, Franciscan Hobbies can be your ONE STOP HOBBY SHOP RIGHT OFF THE STREETCAR STOP!

Some things never change. some things continually change. After over 50 years of pleasing hobbyists, Bill partially retired in 1997 and the store is now in the hands of John Gunther and Don Grant, although Bill can be seen once in a while. But Franciscan Hobbies is still on Ocean Avenue. The same atmosphere and friendly service remains and is still a fun place to shop and visit. Trolley cars of the 'K' line still pass the front door, although they are newer Breda Light Rail Vehicles. But the relics of the past, PCC cars, Iron Monsters and other trolley cars from the historic fleet occasionally pass the front doors of Franciscan making a visit to the store even more worthwhile.

So when in San Francisco, after you run through all the other tourist places, hop on an outbound 'K' car and visit Franciscan Hobbies; located at 1920, Ocean Ave.

Look for the Red banner with yellow wording.